Information for Exhibitors
Exhibition Floor Plan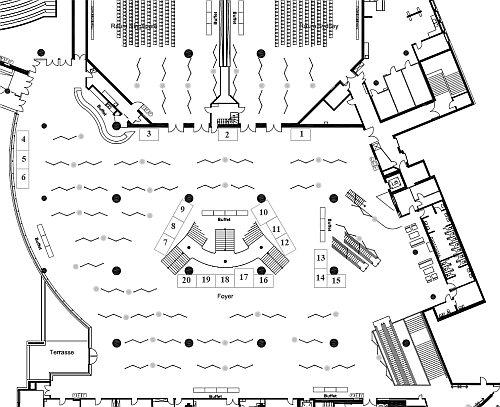 | | | | |
| --- | --- | --- | --- |
| Booth | | Booth | |
| 1 | SciEngines | 11 | SBKB |
| 2 | Elsevier | 12 | SBV Improver |
| 3 | Cambridge University Press | 13 | ESCS – ISCB Student Council |
| 4 | Time Logic | 14 | ISCB |
| 5 | ELIXIR | 15 | ECCB'12 Info desk |
| 6 | EMBL - EBI | 16 | Springer |
| 7 | Nebion | 17 | Convey Computer |
| 8 | CRC Press / Taylor & Francis | 18 | NBIC |
| 9 | Korilog | 19 | Oxford University Press |
| 10 | BIOBASE | 20 | SIB |
Exhibition Package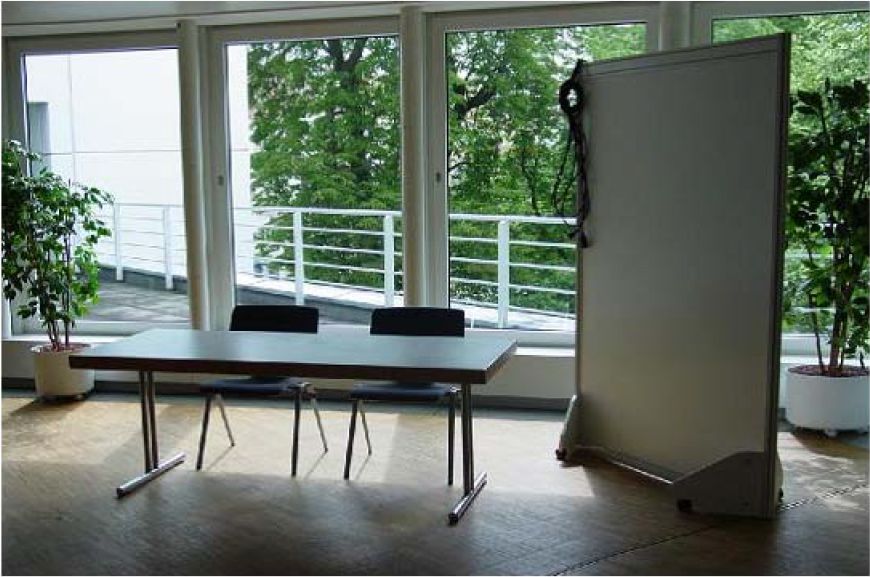 The stand is 6 sqm floor space ( 2 x 3m) and contains:
- 1 table (180 x 80 cm) & 2 chairs
- Wireless Internet access (WLAN)
- 1 mobile poster wall

(on casters, W=121cm, H=186cm)
- Electricity (1 800 W - 230V AC)
If you need additional furniture, please contact the Congress Center directly: Mr Sven Brogli, per phone +41 58 206 28 55, or per e-mail.
In addition, you receive 2 exhibition passes, and your company logo with a short description will be displayed on the ECCB'12 website and in the abstract book.
As an exhibitor you have access to the exhibition zone, lunches and coffee breaks as well as the poster sessions, welcome reception, conference dinner and social activities. Please note that the attendance to the plenary lectures of the conference is not included in the exhibitor's package. If you would like to attend the full scientific program, please register online for regular conference participation.
Important Dates
Exhibition Date:
Monday, September 10 - Wednesday September 12, 2012
Conference Dinner:
Tuesday, September 11, 7 p.m., Congress Center
Opening Times of the exhibition:
Monday, September 10, 9 a.m. – 8 p.m.
Tuesday, September 11, 9 a.m. – 7 p.m.
Wednesday, September 12, 9 a.m. – 5.30 p.m.
Set up:
Sunday, September 9, 12 a.m. – 5 p.m.
Pack down:
Wednesday, September 12, 5.30 p.m. – 7 p.m.
Venue
Congress Center, Messeplatz 21, 4058 Basel, Switzerland

Shipping information
Please note that the Congress Center Basel does not take any responsibility for lost or undelivered material. If the exhibitors still wishes to send material it must not arrive before Monday, September 3rd at the Congress Center Basel. The Congress Center will refuse any material that arrives prior to this date. Please include the name of your company at the shipping address noted below. All material must be taken back by the exhibitors. The Congress Center will charge a fee for disposal in case of left material at the venue.
Shipping address for distributing materials:

Congress Center Basel
MCH Messe Schweiz (Basel) AG
z.H. ECCB / Foyer 2. Stock
NAME OF YOUR COMPANY
Messeplatz 21
CH-4058 Basel
Switzerland