Biozentrum - University of Basel
| | |
| --- | --- |
| | The Biozentrum is a department of the University of Basel. It is an interdisciplinary institute dedicated to basic molecular and biomedical research and teaching. The individual research groups are focused on cell growth/developmental biology, structural biology and neurobiology, as well as infection biology and bioinformatics/systems biology. Yet these groupings are anything but rigid structures; in fact they depend on a tight collaboration and profit from each other. |
| | |
| --- | --- |
| The Biozentrum was founded in 1971, giving room to an – at that time – innovative idea: the unification of various domains of the biological and natural sciences under the same roof. Its goal was to facilitate collaboration with other research areas – a successful concept, as it turned out that nowadays the different research areas cannot be considered separately. In 2011 the Biozentrum has celebrated its 40th anniversary; however, the principle aims remain unchanged: dedication to excellence in research and teaching. | |
University of Basel
The University of Basel is the oldest of the Swiss Universties. Founded upon the initiative of local citizens in 1460, the University of Basel is a modern and attractive centre of teaching, learning, and research situated at the heart of the historic old town.
Comprising 9'000 undergraduate and 2'000 postgraduate and doctoral students, the University of Basel is comparatively small by European standards. In 2010, it celebrated its 550th anniversary.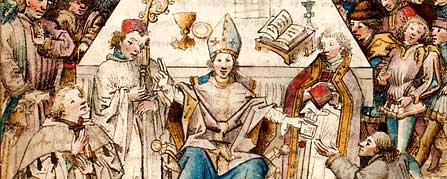 Foundation of the University of Basel on 4th April 1460.
Great names of the University of Basel include the physician Paracelsus (1493–1541), the mathematicians Jacob Bernoulli (1654–1705) and Johann Bernoulli (1667–1748), the physician Friedrich Miescher (1844–1895), philosophers Friedrich Nietzsche (1844–1900) and Karl Jaspers (1883–1969), and the nobel laureates Tadeus Reichstein (1897–1996) and Werner Arber (*1929).